Features:
·         100% Brand new and high quality.
PERFECT GIFT
·         Get quick and easy beautiful long lashes – no need for glue or adhesive that takes longer to apply. 
·         Use the Voluminous Magnetic Eyelash and instantly achieve luscious lashes that will last you all day and night! 
·         Perfect for whole day or evening events, this long wearing magnetic eyelash is what you need for a fast fix to make you always ready for any occasion. 
Specifications:
·         Condition: Brand New.
·         Product Name: Magnetic Eyeliner and Eyelashes Gift Box.
·         Item: 2 Pairs Mix Style magnetic eyelashes,1 Pc magnetic eyeliner,1 Pc tweezers, 1 case with mirror in box
·         Features: Waterproof, Portable, Long Lasting, Magnetic.
·         Eyelashes Material: Handmade 3D Faux Mink Hair.
·         Styles: 3 Styles to choose from.
·         Features: No Glue Needed eyelashes, Convenient and easy to go. Stay put all day, it's easily removed and re-positioned.And with the mirror case its easy to carry around in your handbag
✅Made of silk, not mink: No animals were hurt in the process! They also feature 5 magnets on the strip to maximize performance,
✅One time investment: They are easily reusable and of high quality so you can use them as many times as you want,
✅Can be trimmed from both sides: Which makes them able to fit all eye shapes,
✅Applied instantly: without any sort of CLUMSY GLUE,
✅Ultra-Lightweight: you won't feel like you are wearing fake lashes at all,
✅Newly launched magnetic technology: ensures your lash at its ideal place,
✅Safe and tested: Our glue free design won't cause irritation to your eyes or cause damage to your natural eye lashes,
✅What you'll get: 2 Pairs  of Magnetic False Lashes, 1 Magnetic Eyeliner and 1 Lash Curler/Applicator.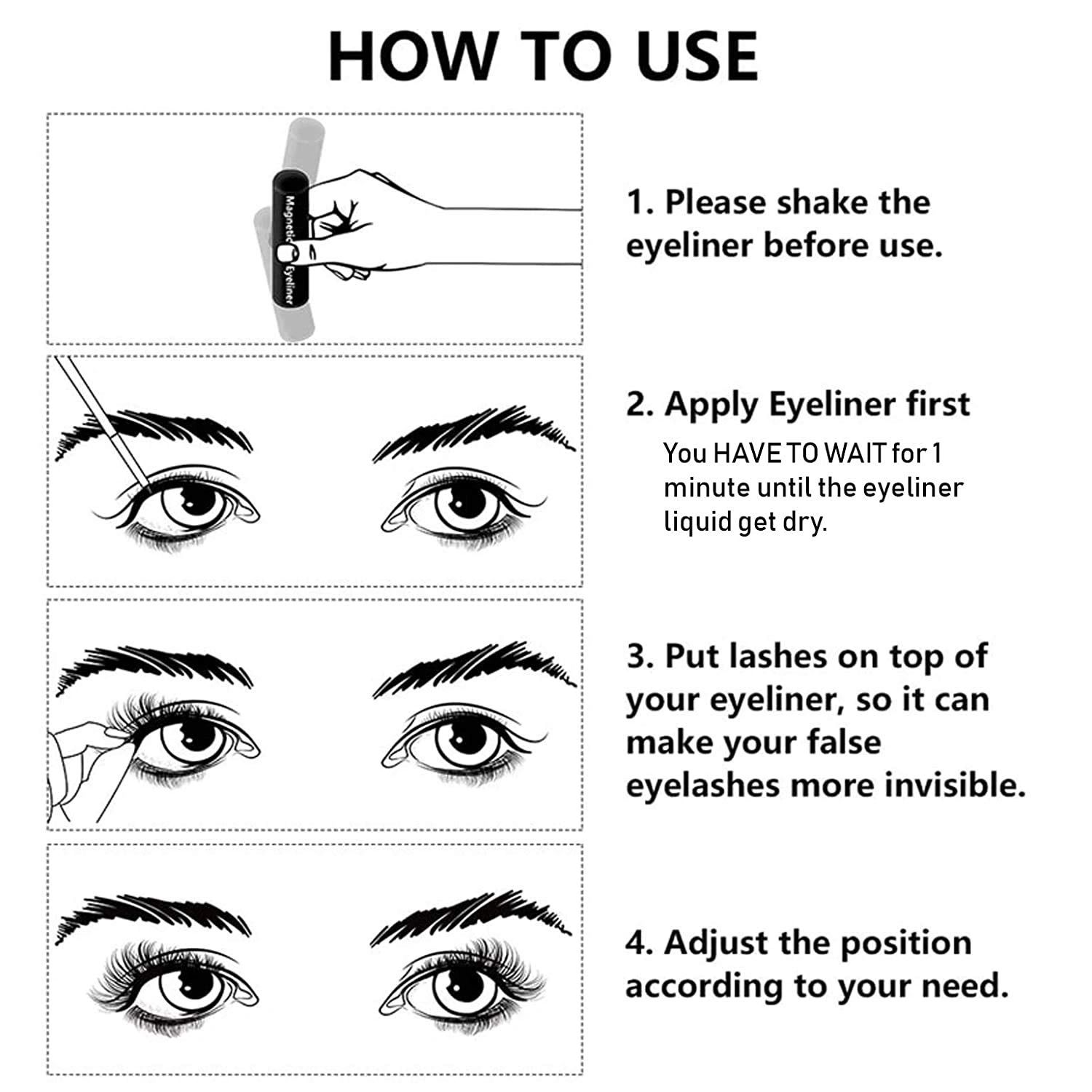 • Cut magnetic lash down to fit your eye width. Apply magnetic liner on lash line where lashes will adhere

• Shake before each use. Glide felt brush tip along the upper lash line only, making an even line as thick as the magnets. For optimal results, apply lashes onto liner once 80% dry. Do not use liner on waterline or lower lash line
• Adhere lashes to magnetic liner. Press lashes down onto magnetic liner on lash line to ensure magnets make a connection
• For extra hold on the inner & outer corners, you may use anchors. Hold an anchor under your natural lashes near a lash magnet. It will snap into place, sandwiching your natural lashes
• To reuse, clean magnets by gently scratching off dried magnetic liner. Use makeup remover to clean off remnants, if any. Do not wet the magnetic lashes
Magnetic Liner Application Tips
• To remove, gently peel off lashes from either corner. Cleanse skin with oil-based makeup remover